TWS119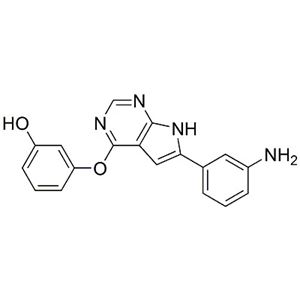 Exact Amount™
The mg quantity of material provided in the smallest pack size for this product is specified on the vial label to two decimal places. This reduces concentration variation and ensures reproducibility in your experiments.
Activity
TWS119 is a cell-permeable pyrrolopyrimidine compound that acts as a glycogen synthase kinase-3 beta (GSK-3 beta) inhibitor. TWS119 is thought to bind GSK-3 beta with high-affinity and increases the level of beta-catenin, a downstream substrate of GSK-3 beta in the Wnt signaling pathway.
Effect
TWS119 induces neuronal differentiation in pluripotent murine embryonal carcinoma cells and embryonic stem cells (ESC). Because neuronal differentiation can be achieved without embryoid bodies (EB) formation and RA treatment, TWS119 may act by a novel mechanism on early processes involved in determining cell fate. TWS119 treatment towards hepatic stellate cells leads to reduced β-catenin phosphorylation, induces nuclear translocation of β-catenin, elevates glutamine synthetase production, impedes synthesis of smooth muscle actin and Wnt-5a, but promotes the expression of glial fibrillary acidic protein, Wnt-10b, and paired-like homeodomain transcription factor 2c.
Alternative Names
GSK-3β Inhibitor XII
3-(6-(3-aminophenyl)-7H-pyrrolo[2,3-d]pyrimidin-4-yloxy)phenol
References
1. Kordes, C., et al. 2008. Biochem Biophys Res Commun. 367(1): 116-123. PMID: 18158920
2. Ding, S., et al. 2003. Proc Natl Acad Sci U S A. 100(13): 7632-7637. PMID: 12794184
3. Forget, MA., et al. 2012. PLoS One. 7(7): e41074. PMID: 22859966
4. Ono, M., et al. 2011. Platelets. 22(3): 196-203. PMID: 21231855
Product Details
Formula
C18H14N4O2
Molecular Weight

318.33

CAS Number

601514-19-6

Purity

>98%

Solubility

DMSO

Stability and Storage

Stable at -20°C. Keep away from direct sunlight.