U0126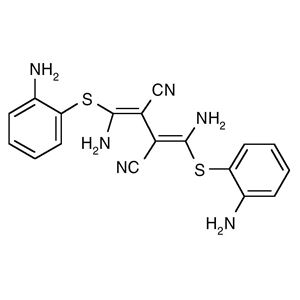 Exact Amount™
The mg quantity of material provided in the smallest pack size for this product is specified on the vial label to two decimal places. This reduces concentration variation and ensures reproducibility in your experiments.
Activity
U0126 is a selective MAP Kinase inhibitor, displaying a preference for MEK-1 and MEK-2. It is known that U0126 binds to MEK in a noncompetitive manner compared to ATP. Studies suggest that U0126 antagonizes the transcription of AP-1, via the inhibition of MEK. In addition, U0126 has been observed to inhibit promoters containing an AP-1 response element, while in contrast having no effect on promoters that lack an AP-1 response group. U0126 is an activator of PGC-1, mtTFA and Nuclear Respiratory Factor.
Effect
Inhibition of MEK/ERK activity by specific MEK inhibitors PD98059 and U0126 rapidly causes the loss of human embryonic stem cells (hESC) pluripotency, acting as a promoter of hESC differentiation. U0126 is also useful in neuronal studies in mice since it displays inhibitory effects against oxidative stress.
Alternative Names
U-0126, Succinonitrile
1,4-Diamino-2,3-dicyano-1,4-bis(2-aminophenylthio)-butadiene
References
1. Duncia, JV., et al. 1998. Bioorg Med Chem Lett. 8(20): 2839-2844. PMID: 9873633
2. Satoh, T., et al. 2000. Neurosci Lett. 288(2): 163-166. PMID: 10876086
3. Zhang, XZ. 2010. Reprod Biomed Online. 21(1): 26-36. PMID: 20462797
4. Wu, HM., et al. 2014. J Cell Mol Med. PMID: 24725889
Product Details
Formula
C18H16N6S2
Molecular Weight

380.49

CAS Number

109511-58-2

Purity

>99%

Solubility

DMSO

Stability and Storage

Stable at -20°C. Keep away from direct sunlight.