Second generation IL-2 therapy set to boost checkpoint inhibitors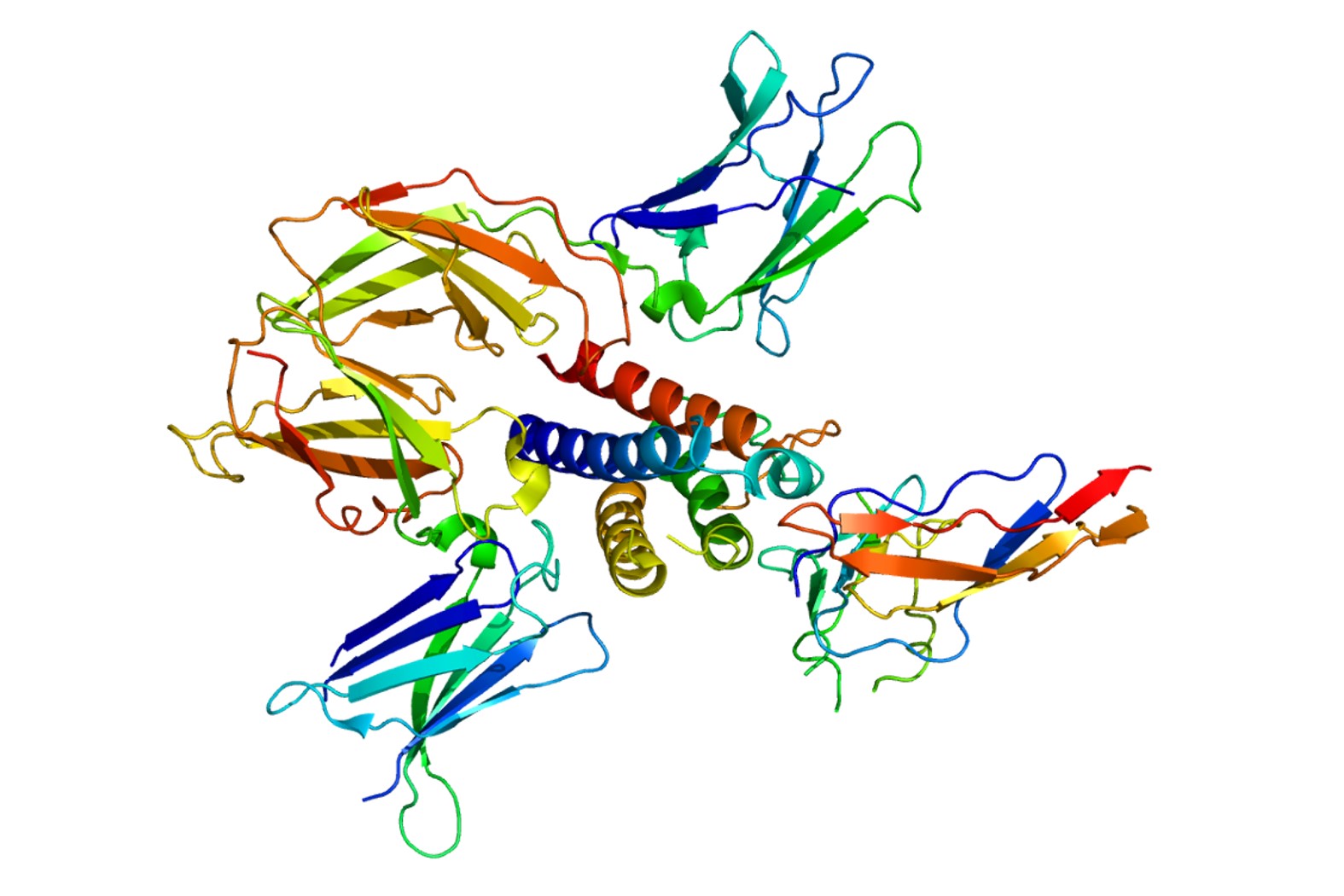 T-cells are an important part of the immune system's defense against cancer, but these cells are often suppressed within the tumor microenvironment (TME). Boosting T-cell activity can tip the balance within the TME in favor of the immune response.
The IL-2 cytokine is a potent agonist and activator of T-cells and binds to three receptors (alpha, beta, gamma). These IL-2 receptors are also expressed in other cells, such as T-regulatory cells, making IL-2's effects difficult to control: Co-binding to beta and gamma receptors stimulates T cell proliferation, but binding to alpha as well can actually suppress T cells. If that wasn't enough complexity, although highly potent, IL-2 also suffers from a very short half-life so high doses are needed for therapeutic efficacy.
Proleukin (aldesleukin), a high-dose IL-2 therapy, was approved for cancer therapy nearly 30 years ago. As many as 5% of eligible patients with metastatic renal cell carcinoma and melanoma achieve lasting remission or cure. However, the severe toxic side-effects of high dose IL-2 therapy, notably vascular permeabilization, can be lethal and require hospitalization during treatment, often in intensive care. Controlling these severe side effects and improving half-life may transform the clinical utility of IL-2.
Consequently, checkpoint inhibitors such as Keytruda that block immune suppression of T cells within the TME look set to benefit from combination therapy if IL-2's toxic side effects can be suppressed. IL-2 would enable proliferation and the checkpoint inhibitors would enable the T-cells to attack the tumour cells.
The therapeutic rationale is clear and many companies are now working to bring modified versions of IL-2 to market to treat cancer. These companies are well funded, and the diversity of approach, with at least three distinct strategies, offers hope that more than one improved IL-2 drug may eventually be approved.
IL-2 Modificiation Strategies
Strategy 1: IL-2 exerts multiple effects on cells by binding to different receptors. By modifying (or completely redesigning) the binding domains or coating with molecules such as PEG, the binding affinity for different receptors can be tweaked to generate specific outcomes.
Strategy 2: Specific proteases expressed in the TME allow cleavage of an inactive precursor IL-2 to an active form within the TEM
Strategy 3: Chimeric forms. These may have a secondary receptor binding domain targeting cancer-cell-specific targets. This may be accompanied by a modification to weaken IL-2 binding to its receptors such that biding to both receptors is required for efficient IL-2 receptor binding. Chimeras may have significantly longer half-lives, particularly if fused with antibodies.
| | | | | |
| --- | --- | --- | --- | --- |
| Company | Location | Stage | Latest funding | Technology |
| Nektar Therapeutics | San Franciso, CA | Phase 3 | $1.8 Bn | PEGylation to generate partial agonists avoiding alpha receptor |
| Sanofi | Paris, France | Phase 1 | Listed | Artificial nucleotides and modified amino acids used to genetrate partial agonists avoiding alpha receptor |
| Werewolf Therapeutics | Cambridge, MA | Pre-clinical | $180 Mn | Protease cleavage to active form within the TME |
| Synthekine | Menlo Park, CA | Pre-clinical | $82 Mn | Partial agonists avoiding alpha receptor |
| Bright Peak Therapeutics | Basel, Switzerland | Pre-clinical | $35 Mn | Tumor targetting antibody chimeras |
| Neoleukin | Seattle, WA | Pre-clinical | Listed | Synthetic IL-2 mimic with partial agonist binding to avoid alpha receptor |
| Asher Bio | San Francisco, CA | Pre-clinical | $55 Mn | Chimeras with cancer cell receptor binding domain |
| Anaveon | Basel, Switzerland | Pre-clinical | CHF 36 Mn | Antibody fusion avoids alpha receptor |
| Xilio | Waltham, MA | Pre-clinical | $95 Mn | Protease cleavage to active form within the TME |
Nektar Therapeutics, based in San Francisco, CA have used their PEGylation and polymer technology to develop Bempegaldesleukin which binds only to IL-2's beta and gamma receptors. It is anticipated that avoiding the alpha receptor will reduce side effects. Nektar has partnered with Bristol Myers Squibb (who provided up-front funding of $1.8 billion) to test Bempegaldesleukin in a wide range of cancers, some of which have already progressed to phase 3. The partners are also testing combination therapy with BMS' Opdivo checkpoint inhibitor. Nektar also has a smaller collaboration with Eli Lilly (who injected $150 million). In August 2020, Nektar published results of a phase 1 escalation study of melanoma, renal cell cancer and lung cancer in which 7/38 patients achieved a complete response. Importantly, no severe side effects were reported.
Sanofi acquired Synthorx in 2019 for €2.3 billion ($2.5 billion). Synthorx's core technology involves the use of artificial nucleotides to allow the incorporation of novel amino acids into proteins. Now entering phase 1 clinical trials, these proteins provide increased stability and can be tuned to have specific receptor interactions. Sanofi has bet big that THOR-707, an IL-2 derivative that avoids the alpha receptor, will become the cornerstone of its entire immuno-oncology platform which it is testing in combination with its $3.7Bn revenue-earning Keytruda PD-1 checkpoint inhibitor drug.
Werewolf Therapeutics, a pre-clinical company based in Cambridge, MA, utilizes a pro-IL2 which requires digestion by proteases for conversion to a mature form that binds the receptor. Since these proteases are enriched in the TME, activity is focussed there. Based on this technology, the company is also developing IL-12 and IFN-alpha therapies. Werewolf also plans to combine these with checkpoint inhibitor therapy. The company has raised about $180 million this year including $113 million from a successful IPO.
Xilio Therapeutics, based in Waltham, MA, is also following a protease cleavage strategy to unmask bioactive IL-2 within cancer cells. It is particularly focused on developing therapies for lung cancer. In its most recent fundraising, Xilio brought in an additional $95 million of capital.
Synthekine, a discovery-phase company based in Menlo Park, CA, is developing an "engineered partial agonist" technology that allows tuning of natural cytokines, such as IL-2 to selectively activate receptors on specific immune cell types improving ant-tumor efficacy. The company raised $82 million in a Series A investment.
Bright Peak Therapeutics, based in Basel, Switzerland, is a pre-clinical company that is attaching IL-2 to antibodies that increase the half-life of the antibody and which can be targeted to tumor-specific receptors to enhance avidity and potency. Bright Peak raised $35 million in 2020.
Neoluekin, based in Seattle, WA, reverse merged with Aquinox Therapeutics early in 2019 after Aquinox has suffered a phase 3 failure of its anti-inflammatory pain drug the previous summer. This gave Neoleukin development funds to develop a synthetic protein designed on a computer that looks like IL-2
Asher Bio, a pre-clinical company based in San Francisco, CA raised $55m in March 2021 to engineer IL-2 hybrids which have reduced affinity to their receptor but also have a second receptor binding antibody domain to enable binding to a cancer cell-specific receptor. This cis-targeting approach increases the specificity of the molecule to cancer cells reducing binding to non-target cells.
One other company has antibody conjugated IL-2 drugs in development: Anaveon, based in Basel, Switzerland has antibody chimeras that avoid binding to the alpha receptor.
Also of note, IL-2 is also being developed for immunosuppression. Merck paid $1.9 billion for Pandion Therapeutics in February 2021 to acquire its IL-2 portfolio to treat autoimmune disease.
At Cell Guidance Systems, we're exploring the possibility of using PODS® proteins to deliver IL-2 to cancer using a macrophage-mediated molecular Trojan horse approach. This approach has the potential to deliver IL-2 specifically to the site of cancer and maintain effective dosing for many weeks. You can read more about this research in a recent publication now in press.
IMAGE: IL-2 binding the beta receptor. Emw - Wikimedia